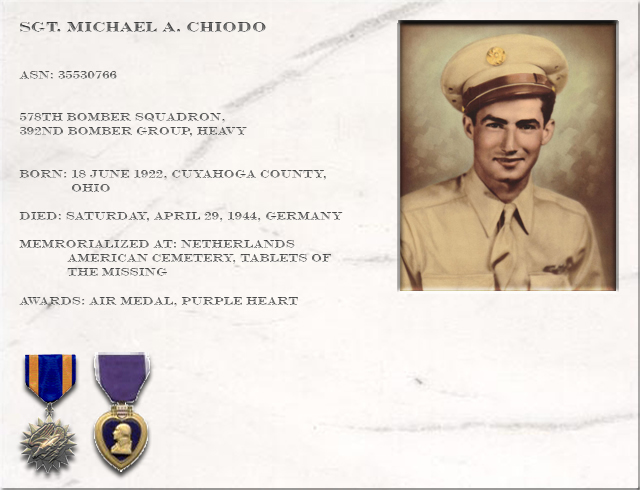 Michael A. Chiodo was born 18 June 1922 to Michele Angelo and Maria Francesca Chiodo in Cuyahoga County, Cleveland, Ohio. Michael was the eleventh of twelve children in the Chiodo family.
His parents and the two oldest children were born in Italy ,Michael was named after his father.
Michael had six brothers and five sisters; Russel (1906), Marie (1907), Arnold (1909), John (1910), Lucy (1911), Adolph (1914), Michelene (1915), Carol (Joyce Wittal's mother - 1917), Frank (1918), Annello (1920), and Rose Ann (1924).

Michael graduated from High School and worked in machine shops and similar occupations before the war.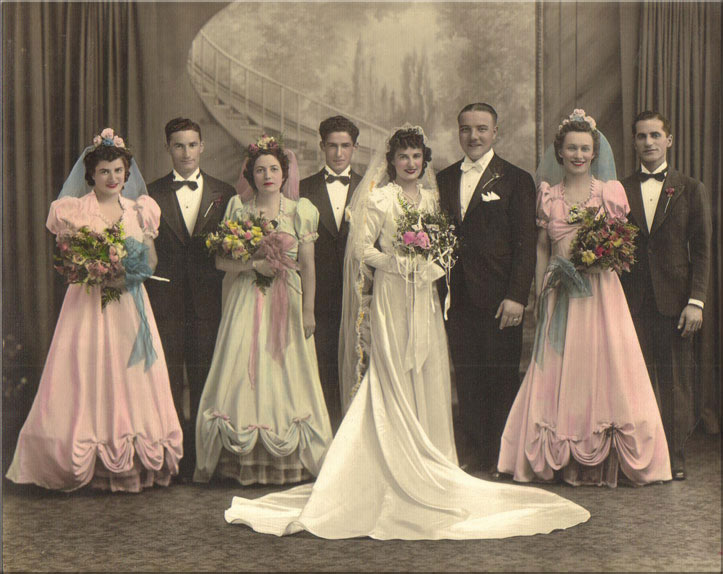 Michael at his sister Carol's wedding on August 3, 1940.
( Michael is the 4th from the left)

Michael enlisted in the United States Army, Januari 19,1943 in Cleveland, Ohio.
Three of his brothers; John, Adolph, and Frank also enlisted in the Army during WWII. His sister Rose Ann enlisted in the Women's Army Corps during the war. All three brothers were wounded, but survived the war. Michael was not so fortunate.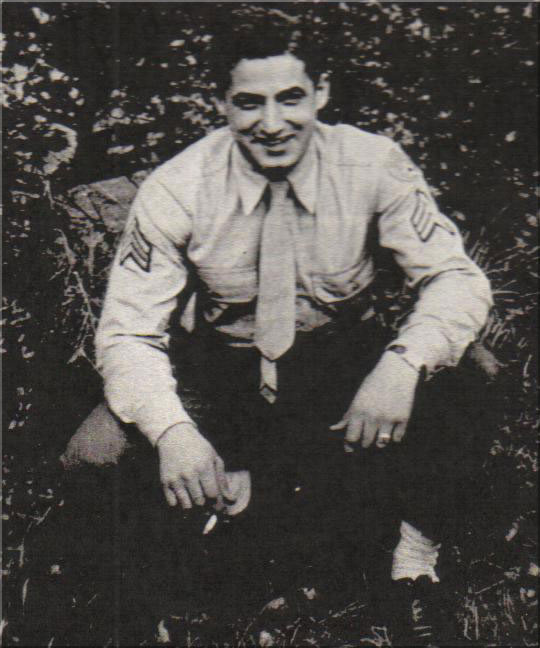 Michael A. Chiodo
22 year old Michael was a member of the 578th Bomber Squadron - 392nd Bomber Group (Heavy) and was a left waist gunner aboard plane #42-110105, a B-24J Liberator piloted by 2nd Lieutenant Robert R. Bishop.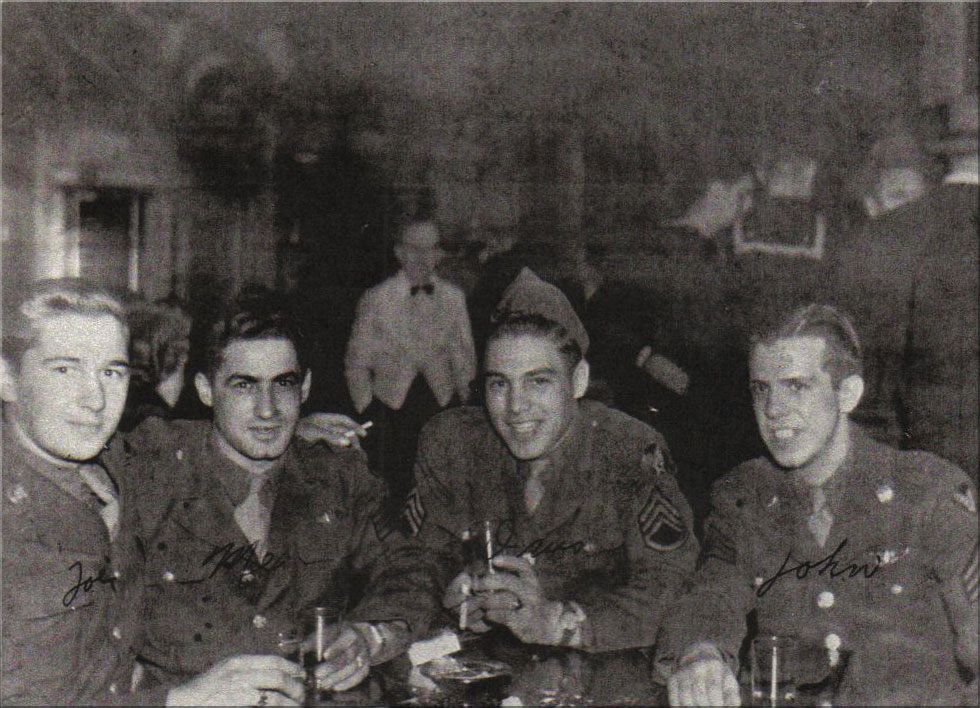 Michael with a part of his crew in a club. Left to Right: S/Sgt. Joseph Karaso, Sgt. Michael A. Chiodo,
S/Sgt. Orus Baxter and Sgt. John Harringer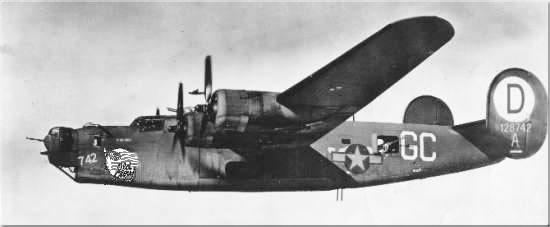 B24 Liberator

When the curtain was pulled back in the 392nd's briefing room, the crews
Saw this mission map.(NARA files)
On April 29, 1944 the whole squadron including the"Bishop"B24 took off from their base in Wendling, England for a bombing mission over Berlin at 7:39am. Around 11:03am. It was the crew 10th mission.
After facing the first attack from enemy fighters, the Sabourin crew reported seeing Bishop's plane pulling away from formation, reporting that "it looked like the right elevator was shot up badly – no parachutes"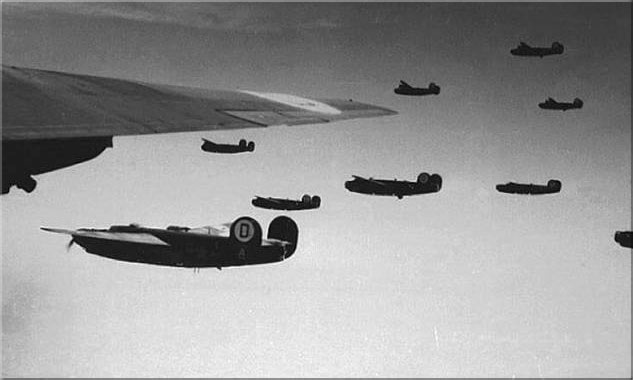 fully assembled 392nd Bomb Group heads toward Germany.(392nd BGMA files)
Sgt Guillot, Kamenitsa's left waist gunner, remembers that when his airplane came to rest after the crash and the dust had settled, he could see a huge fire and black smoke near a farm house or barn a few hundred yards away. He was sure it was a bomber from his own Group , but as it turned out, the plane was actually Bishop's.

German witnesses remember seeing the dogfight between the fighters and the bombers, and then this B-24 spiralling down toward the horse pasture below. They confirmed that everyone was killed in the crash. About an hour after the impact, a bomb exploded in the wreckage, destroying much of what remained of the plane and sending debris far and wide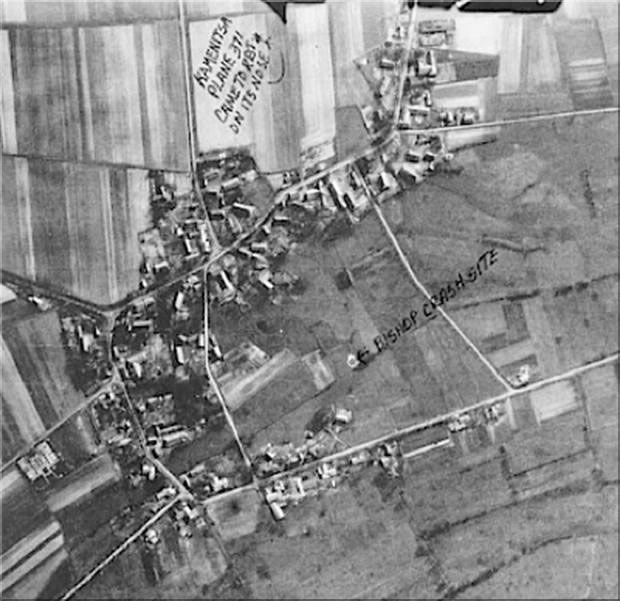 An aerial photograph taken in 1945 and edited to show Bishop's
crash site and that of another B-24 during the same mission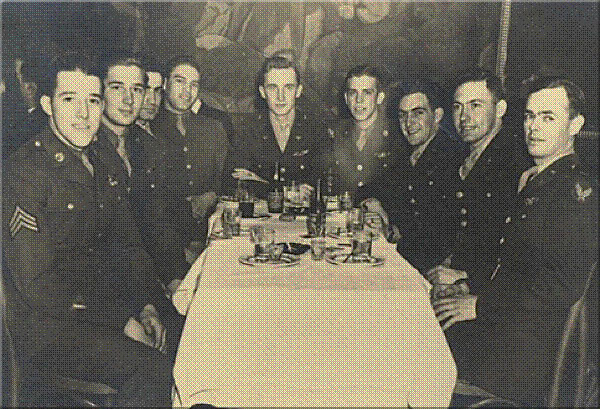 The Bishop Crew

L to R: Sgt. John Bonnassiolle (ball turret gunner), S/Sgt. Joseph Karaso (radio operator), Sgt. Michael Chiodo (left waist gunner),
S/Sgt. Orus Baxter, 2nd Lt. Robert Bishop (pilot), Sgt. John Harringer (right waist gunner), 2nd Lt. Thomas Digman (bombardier),
2nd Lt. Arthur Luce (co-pilot), 2nd Lt. Donald Hess (navigator).
Not shown: Sgt. James Blong (engineer) and S/Sgt. Ralph McDonald (tail gunner).
All lost their lives on April 29, 1944 with the exception of Orus Baxter.
Michael's niece, Mrs. Joyce M. Wittal remembers... "The family grieved inconsolably for their baby boy. Although I've never met him - I know him through all the stories from my Aunts and Uncles--the twinkle in their eyes and their smile and how their eyes got misty remembering he was not with us."
Mrs.Joyce Wittal also tells us... "I meet with the Army contacts every other year for a status update. They do a terrific job with accounting for the missing and in their recovery efforts to find a fragment of bone or a piece of aircraft or uniform. Currently four of my uncle's Crew led by Lt. Bishop have been recovered. My Son and I have both given DNA samples to assist in their efforts. In the 1940's when the boys went to war, there was no DNA, mostly handwritten dental records. Not sure what the future holds because the German farmer, whose property is where the plane went down and two crew member's remains were found refuses to cooperate further with excavation of his property."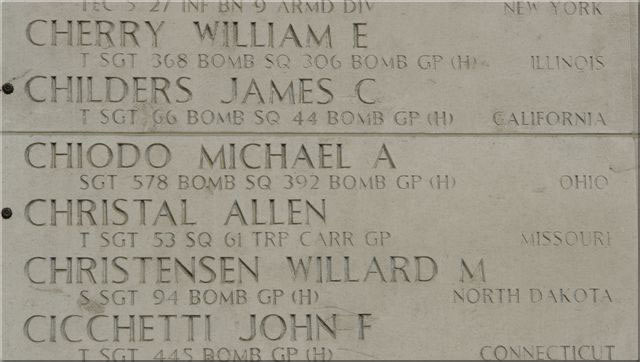 SGT Michael A. Chiodo, Memorialized at the Tablets of the Missing at the Netherlands American Cemetery and Memorial, Margraten, the Netherlands



He is lovingly remembered by
his sister Rose Ann,
his niece Joyce M. Wittal
and by all who knew Michael and his family.
A very special thanks to
Mrs. J. Heusschen-Curvers and her son, Joel Heusschen
for adopting Michael's name on the Wall of the Missing.
A special word of gratitude is going out to:
Ms. Joyce Wittal, niece of SGT Michael Chiodo
Mr. Frits Kruishaar, adopter of TEC4 John Frankovitz
Mr. Kevin Klump, webmaster of In Proud Remembrance
Sixty years later, working to bring the boys home

Team recovers lost U.S. WWII-era bomber in Germany

In an October 2, 2005 article in Stars and Stripes, Kevin Dougherty wrote of efforts to recover Bishop's lost bomber and the remains of her crew.
Anthropologist Dr. Gregory Fox sorts artifacts recovered from a World War II crash site of a U.S. B-24J bomber near Mellendorf, Germany.

"Every little piece is important," Army Staff Sgt. Rick Thomas said as he stood at the crash site. "It doesn't matter how small or how burnt. Our job is to bring back all the remains we can of our fallen comrades."


photo's and text,courtesy "stars and Stripes".