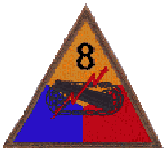 A brief History of the 8th Armored Division
"Thundering Herd"

The 8th Armored Division was activated at Fort Knox, Kentucky, on 1 Apr 1942. Following is a brief history. (For a detailed history see the book In Tornado's Wake by Cap't Charles R. Leach.)
The Division was initially called the 'Iron Snake', but subsequently adopted the 'Thundering Herd' moniker and another, it's war code name of 'Tornado'. From June 1942 until January 1943 it served as a training division. It trained cadre and replacements for many other armored divisions. While stationed at Fort Knox, the Division was the official military guardian of the United States Gold Vault.
In January, 1943 it moved from Fort Knox, KY to Camp Campbell KY, and in February 1943 it was relieved of its cadre training mission and directed to attain combat-ready status. In March, the division was moved to North Camp Polk, LA, where it took over vehicles and equipment of the departing 7th Armored Division. While in North Camp Polk, it began training for combat service.
In October 1943, it moved from garrison to bivouac and conducted extensive field exercises. From February to April 1944 it participated in Louisiana maneuvers which lasted three months. The Division stayed in the field after maneuvers were completed. Shortly after this most privates and Pfc.'s were shipped out and new replacements were received.
The Division ended almost six months of duty in the field as they moved to barracks at South Camp Polk and continued training for combat. In September 1944 it was placed in top priority for overseas movement. It departed for Camp Kilmer, New Jersey in late October 1944. Departure from New York began on 7 November with arrival in England on 18 November 1944.
After a six week stay at Tidworth, England the 8th Armored landed in France on 5 Jan 1945 and assembled in the vicinity of Pont-a-Mousson, France to organize a counterattack against an expected enemy strike in the Metz area.
On 22 Jan, after failure of the German attack to materialize, the Division joined the fighting in support of the drive by the 94th Infantry Division against the Saar-Moselle salient. Six days later, it was relieved and moved north to the Maastricht, Holland area to prepare for participation in 9th Army's attack toward the Rhine.
The Division crossed the Roer 27 February and assisted the 35th and 84th Infantry Divisions in their push eastward, taking Tetelrath, Oberkruchten, Rheinberg, and Ossenberg against stubborn resistance. Crossing the Rhine at Wesel 26 March the Division attacked east to help form the northern arm of the Ruhr encirclement.
Taking Dorsten and Marl on 29 March, it crossed north of the Lippe Canal on 1 April and raced east to reach Neuhaus on the 3rd. At that point, it veered south, then attacked west into the Ruhr Valley in an effort to help eliminate the Ruhr Pocket.
In mid-April, when the XIX Corps drive to the Elbe was threatened from the south, the Division was pulled out and rushed east to provide right flank protection against fanatical remnants of the German 11th Panzer Army grouping in the Harz Mountains. Assembling in the vicinity of Halberstadt, it attacked south against the German force, taking Blankenberg on the 20th of April, and seizing Ottenstedt on the 21st in the division's last coordinated action of the war.
It continued mop-up operations and performed occupation duty in the Harz Mountain area up to and immediately following VE day. Then, in late May, it was ordered south to Czechoslovakia to assist in processing prisoners of war, operating displaced persons camps and guarding vital installations including the Skoda Munitions Works.
The Division closed in the Pilsen area 6 June, 1945 and remained there until departure 19 September for return to the United States and inactivation at Camp Patrick Henry, Virginia, on 13 November, 1945
Address of Maj. Gen. John M. Devine,
former commander of the 8th Armored Division
On July 2, 1955 at the Tomb of the Unknown Soldier in Arlington Cemetery Maj. Gen. John M. Devine, former commander of the Armored Division, spoke to the members of the Division Association at the Association's annual memorial service.
His address, which properly reflects the spirit to which this History is dedicated, was as follows:

"We are gathered here today at the Tomb of the Unknown Soldier to pay homage to those of our comrades-in-arms who gave their lives for their country. It is particularly fitting that, near this 10th anniversary of the end of World War II, we should gather here in Arlington Cemetery at the shrine sacred to the memory of the war dead of our country. Here we remember and salute those of our own ranks, the heroes of the Eighth Armored Division, who now live but in memory.
As we assemble here today, memories come flooding back, some pleasant, some not so pleasant. I remember the first contact with the enemy of the troops of the 8th Armored Division, and I remember well the valor of our troops on that occasion. But particularly vivid in my mind is an assembly that took place shortly after our first battle. There I had the honor of pinning on the breasts of a few of those who had earned them, medals for gallantry in action. I remember the occasion well and I remember the precise words I used in speaking to that group who had already distinguished themselves against the enemy. Speaking from experience and speaking from the heart, I said: "Never have troops in their first contact with the enemy fought with greater gallantry than the troops of this division." I meant what I said. For me it was an emotional moment. Those words were true then and they are true now. Gallant in action our troops most certainly had been.
But gallantry in action demands a price, and many of us had already paid the price. Today we commemorate those who paid that price in full. It is right and proper that this Memorial Service should be a part of the reunion of this division. It is right and proper that, as we gather to revive old memories and to renew old friendships we should pause to remember those of our comrades who cannot be here to participate in these gatherings, those who have paid in full the price of gallantry in action.
In the midst of our reunion and of our celebration, we pause a moment to remember them, to pay tribute to their deeds, and to say a prayer for their souls.
May they rest in peace and in honor"!
COMBAT LOSSES BY MONTH
| | | |
| --- | --- | --- |
| | Officers | Enlisted Men |
| January '45 | 21 | 418 |
| February '45 | 16 | 228 |
| March '45 | 75 | 765 |
| April '45 | 60 | 872 |
| May '45 | 14 | 338 |
| TOTALS | 186 | 2,621 |
Division Organization
Eighth Armored Division Commanders
'The Thundering Herd'
Code Name: "Tornado"
Combat Command Organization, 1944-1945
As of 24 October 1944
Division Headquarters: Commanding Officer:
Commanding General: Maj. Gen. John M. Devine
Chief of Staff: Col. Charles G. Dodge
G-1: Lt. Col. Lawrence L. Boyd
G-2: Lt. Col. Emett R. White
G-3: Major William S. Crittenden
G-4: Lt. Col. Harold N. Lang

Combat Command A: Col. Charles F. Colson
7th Armored Infantry Battalion: Lt. Col. A. D. Poinier
18th Tank Battalion: Lt. Col. G. B. Goodrich
398th Arm'd Field Artillery Battalion: Lt. Col R. H. Dawson

Combat Command B: Col. Edward A. Kimball
49th Armored Infantry Battalion: Lt. Col. M. G. Roseborough
36th Tank Battalion: Lt. Col. J. H. Van Houten
399th Arm'd Field Artillery Battalion: Lt. Col. R. M. Lilly

Combat Command R: Col. Robert J. Wallace
58th Armored Infantry Battalion: Maj. George Artman
80th Tank Battalion: Maj. A. E. Walker
405th Arm'd Field Artillery Battalion: Lt. Col. William McLynn

Service Battalions:
(attached by companies to Combat Commands)
53rd Armored Engineer Battalion: Lt. Col. E. T. Podufaly
78th Armored Medical Battalion: Lt. Col. P. D. Marx
88th Armored Reconnaissance Battalion: Lt. Col. T. B. Harrington
130th Armored Ordinance Battalion: Lt. Col. I. O. Drewry. Jr.
148th Armored Signal Company: Capt W. C. Jackson
508th CIC Detachment: Lt. A. J. Stanchick
Division Trains: Col. Y. D. Vesely
Division Artillery: Col. W. H. Holt
Military Police Platoon: Maj. W. H. Burger


UNITS ATTACHED TO THE 8TH ARMORED DIVISION
DURING COMBAT OPERATIONS
(Some of these units were attached for brief periods only.)
691 Field Artillery Battalion
275th Armored Field Artillery Battalion
959th Field Artillery Battalion (4.5)
695th Field Artillery Battalion
215th Field Artillery Battalion
681st Glider Field Artillery Battalion
92nd Chemical Mortar Battalion
407th Field Artillery Battalion
467th AAA AW Battalion (SP)
473rd AAA AW Battalion (SP)
215th Field Artillery Battalion (155 Howitzer)
115th Combat Engineer Group
Company F, 17th Armored Engineer Battalion
234th Engineer (Combat) Battalion
1153rd Engineer (Combat) Battalion
1254th Engineer (Combat) Battalion
999th Engineer Treadway Bridge Company
Headquarters, 10th Armored Group
Company C, 739th Tank Battalion
809th Tank Destroyer Battalion
194th Glider Infantry Battalion
290th Infantry Regiment
3454th Quartermaster. Truck Company
3658th Quartermaster Truck Company



8TH ARMORED DIVISION COMMAND POST LOCATIONS
Fort Knox, Kentucky, I April 42 to 9 Jan 43
Camp Campbell, Kentucky, 9 Jan 43 to 3 Mar 43
Camp Polk, Louisiana, 5 Mar 43 to 2 Feb 44
Highway 21, Leesville, La., 2 Feb 44 to 9 Feb 44
Pitkins, Louisiana, 9 Feb 44 to 25 Feb 44
Florien, Louisiana, 25 Feb 44 to I Mar 44
1 Mile North RJ 143 & 138, 1 Mar 44 to 9 Mar 44
Louisiana Maneuver Area, 10 Mar 44 to 16 Mar 44
Anecoco, Louisiana, 16 Mar 44 to 22 Mar 44
Jasper, Texas, 22 Mar 44 to 27 Mar 44
Newton, Texas, 27 Mar 44 to 31 Mar 44
RJ 21 & Chaffee Road, La., 31 Mar 44 to 26 Apr 44
Camp Polk, Louisiana, 26 Apr 44 to 29 Oct 44
Camp Kilmer, New Jersey, 2 Nov 44 to 6 Nov 44
NYPE, Brooklyn, New York, 6 Nov 44 to 7 Nov 44
South Hampton, England, 19 Nov 44 to 20 Nov 44
Tidworth, England, 20 Nov 44 to 4 Jan 45
South Hampton, England, 4 Jan 45 to 5 Jan 45
Le Havre, France, 5 Jan 45 to 5 Jan 45
Chateau St. Denis, AuFFay, Fr., 6 Jan 45 to II Jan 45
Chateau, Reims, France, 12 Jan 45 to 13 Jan 45
Thiecourt, France, 13 Jan 45 to 4 Feb 45
Wijlre, Holland, 5 Feb 45 to 23 Feb 45
Limbricht, Holland, 23 Feb 45 to 2 Mar 45
Huckel Hoven, Germany, 2 Mar 45 to 4 Mar 45
Lobberich, Germany, 4 Mar 45 to 31 Mar 45
Zweckel, Germany, 31 Mar 45 to 5 Apr 45
Beckum, Germany, 5 Apr 45 to 17 Apr 45
Immendorf, Germany, 17 Apr 45 to'25 Apr 45
Gottingen, Germany, 25 Apr 45 to 5 Jun 45
Holysov, Czechoslovakia, 6 Jun 45 to 21 Sep 45
Camp Oklahoma City, France, 23 Sep 45 to 31 Oct 45
Camp Philip Morris, France, I Nov 45 to 4 Nov 45
Le Havre, France, 4 Nov 45 to 4 Nov 45
HRPE, Newport News, Virginia, 13 Nov 45 to 13 Nov 45
Camp Patrick Henry, Virginia, 13 Nov 45
The Division patch
The basic shape and color of the patch was approved by General George S. Patton during WW I. The colors were specifically ordered by Patton.
Yellow : representing the Cavalry and mobility
Blue : for the Infantry and holding power
Red : signifying Artillery and firepower
The overall shape suggests a pyramid of power, with Patton's branch and color (cavalry yellow) uppermost.
The lightning, tracks, and cannon were added in 1941 when the Armored Force was reactivated.
The individual unit designations are indicated by the number at the top of the patch.